Professor Jun Arima, Graduate School of Public Policy, Tokyo University, lead the panel discussion.
In the wake of electricity liberalization, we can find plenty of new power services which we could never imagine at the era of regulated monopoly. In this respect I would like to pay my sincere regard to new power companies.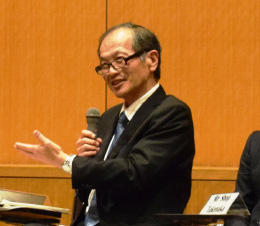 Prof. ArimaFNow I would like to ask you respectively about the meaning of gelectricity deregulationh. And will the price go down or up?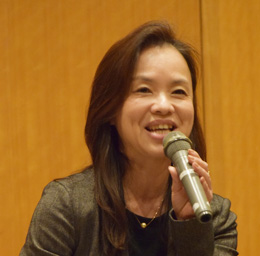 Ms. SatoFThe history shows not all deregulated power market is enjoying cheaper power price. Equally important, changeable consumers who easily switch power companies to the cheapest suppliers, is very limited. And when we try to prepare best energy solution for many customers, we need to prepare a wide variety of power supply service.
Mr. NishimuraFIn the deregulated electricity market, there is no guniversal producth which would be the cheapest menu for all consumers. For example, heavy users of cable TV would most benefit to buy power from cable TV companies. As well, heavy users of gas should find their cheapest product at gas suppliers. It is true that some price comparison websites has started, but they just show only the open-announced official prices.
Mr. AkiyamaFFirst of all, we would like to point out that the power price of Japan is generally moving down. And as new power companies are under assumption of gcheaper price than utilitiesh, we are making great effort to offer lowest electricity price. If this requirement does not change, the number of new power companies would dramatically come down
Prof. ArimaFUK, the global pioneer of deregulation, has experienced a steep price hike at 2014. Additionally, the consumers suffered from too many menu of power companies. So the UK government needed to guide the utilities to minimize their product lines.
And along with the liberalization, the power industry should also try to promote the low carbon society. How would the power companies comply with this? As well, how would Toshiba utilize the latest information technologies toward low carbon solutions?
Mr. TakenakaFThe demand response technology is not treated as important at present market. However, it would become one of the main function of balancing the demand and supply within this ten or fifteen years.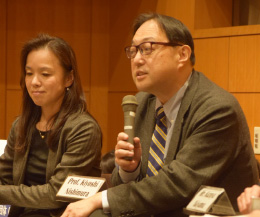 Mr. NishimuraFWe cannot lower the price only at the result of sales competition. And with refer to the relation between global warming and deregulation, the best way to minimize the emission of global greenhouse gas is to increase the power generation of nuclear. If we need to change this, Japan government should develop more renewable energy plants, as well as demand response technology.
Ms. SatoFFrom a standpoint of power generation, most newly installed power plants in Japan are coal fired which is most cost competitive. In this regard, the present power market is not directed for low carbon society.
On the other hand, the power demand would be automatically minimized with demand response, based on IOTiInternet of Thingsj technology.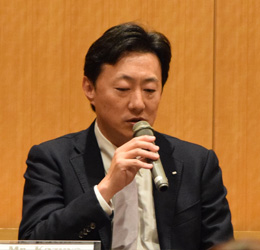 Mr. AkiyamaFThe grand design of future energy mix of Japan Government is based on a big amount of gpower conservationh. On that issue, new power producers can make a significant contribution.
Prof. ArimaFAs Mr. Akiyama pointed out, the 2030 power mix plan which was published by Japan Government is based on g17 percent power conservationh precondition. In addition, Japan economy is proposed to continue 1.7% annual growth along with significant cut of energy consumption.
Therefore, the demand response technology would play a significant role to lower the demand. In the same way, the IOT technology which can automatically minimize the power demand should be the key to build low carbon technology.
Mr. NishimuraFAll of the newly planned coal fired power plants are located in East Japan (formerly supplied by Hokkaido, Tohoku and Tokyo Electric Power Companies, all in 50Hz) because nuclear power plant in this regions are projected NOT to restart. In view of this, future GHG emission in Japan is very much dependent on nuclear policy.
Prof. ArimaFHere we would like to open the floor for questions.
ParticipatorFMr. Takenaka, what do you see for the future of trend of IOT technology?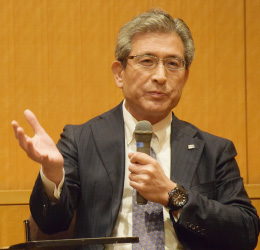 Mr. TakenakaFHydrogen technology would become our core competency, because hydrogen can not only a power source, but can also become the major factor of GHG emission reduction.
Generally speaking, it is very risky to refer to future technology. For example, when smart grid technology was introduced to Japan, the marketing section did not pay regard to it. However, as I believed it would be the principal technology in near future, I continued the development behind the back which finally produced big result nowadays. And as I feel the same passion with demand response now, we should keep focusing on it.
Finally, Professor Arima concluded the panel discussion as;
gNow the power market has liberalized. But the consumers should also change themselves as well. Today we learned that although traditional and new power companies prepare wide variety of power product, the consumers can never benefit if we stay the same. In other words, consumers should LEARN the new power market and FIND the best supplier and best menu for themselves.h