Authorized NPO First Access successfully carried out the international symposium "Tokyo Carbon Conference 2016 - "The Leading-edge Geothermal Technology" on 2nd September 2016, thanks to our honorable sponsor TOSHIBA.
Tokyo Carbon Conference 2016 kicked off with the short presentation of Ms. Jean Wang, First Access Executive Director. She explained the market overview about internal geothermal industry, especially through perspectives of politics and finance.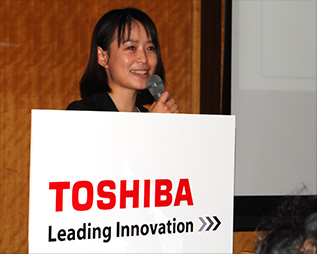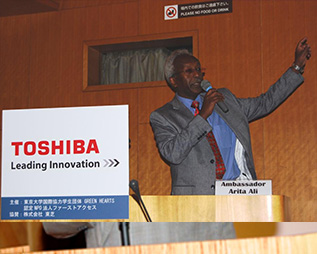 Lecture
「The Impact of Geothermal Power to Energy Security and Climate Change Policy of Djibouti」
His Excellency Ahmed Araita Ali, Ambassador of Republic of Djibouti to Japan
In the next place, Ambassador Ali introduced us that;
1. As Djibouti is a country with almost no natural energy resources, they have been heavily relying on diesel fuel for domestic power generation, which is more costly and environmentally unfriendly compared with renewable or other fossil fuels.
2. In the meantime, Djibouti has been remarkably improving the emission of greenhouse gas by importing great amount of hydro power from Ethiopia, after the power grid was connected.
3. In the sight of those context, the recent Memorandum of Understanding concluded between TOSHIBA and Office Djiboutien de Developpement de l'Energie Geothermique (ODDEG) regarding to Geothermal Power Generation Business is extremely significant.
4. While the present total generating capacity of Djibouti is 120 Megawatt, TOSHIBA sees about 50 Megawatt of geothermal power can be developed, so we greatly expect the cooperation from TOSHIBA to develop low-carbon geothermal power plants in Djibouti.
Lecuture
「The World Politics behind Paris Agreement to Take Effect / Contribution of Geothermal Energy for Climate Change」
Prof. Jun Arima, Graduate School of Public Policy, Tokyo University
The second lecturer was Professor Jun Arima, the former Chief Climate Change Negotiator of Japan Govt. As he was has promoted the construction of Olkaria Geothermal Power Plant while he was the First Secretary of Japanese Embassy to Kenya, we could learn lots of knowledge regarding to geothermal development from the Government side.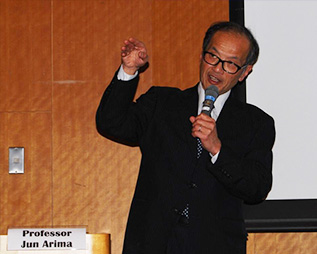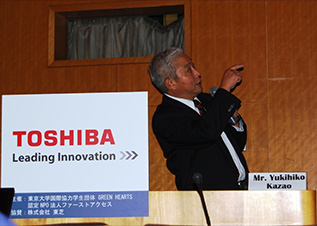 Lecuture
「Toshiba as The Leading Supplier of Geothermal Power Plant」
Mr. Yukihiko Kazao, Managing Executive Officer, TOSHIBA Corporation
Our honorable sponsor TOSHIBA is the leading geothermal power plant manufacturer in the world, who has the largest 23% share in the global market. Equally important, they has also been expanding their business at Turkey, Indonesia and Colombia for recent years.
Today Mr. Kazao introduced their winning history from the very first geothermal plant in Japan, and the reason why they have been chosen from world market to become the world' largest geothermal power plant supplier.
Panel Discussion
「The Future Trend of Global Geothermal Power Market"」
<Panelists>
・Ambassador Ali (Djibouti)
・Mr. Yukihiko Kazao (TOSHIBA)
・Ms. Jean Wang (First Access)
<Moderator>
Professor Jun Arima, Graduate School of Public Policy, Tokyo University
And finally, all participants teamed up for the Panel Discussion.

As we could have four different points, Politics (Ambassador Ali), Climate Change (Prof. Arima), Technology (TOSHIBA) and People (NGO), we could have wide range of ideas, with reaching to one common consent that "While the secure power of geothermal plays an indispensable role in economic development, it is also no less important to supply local energy to community or households".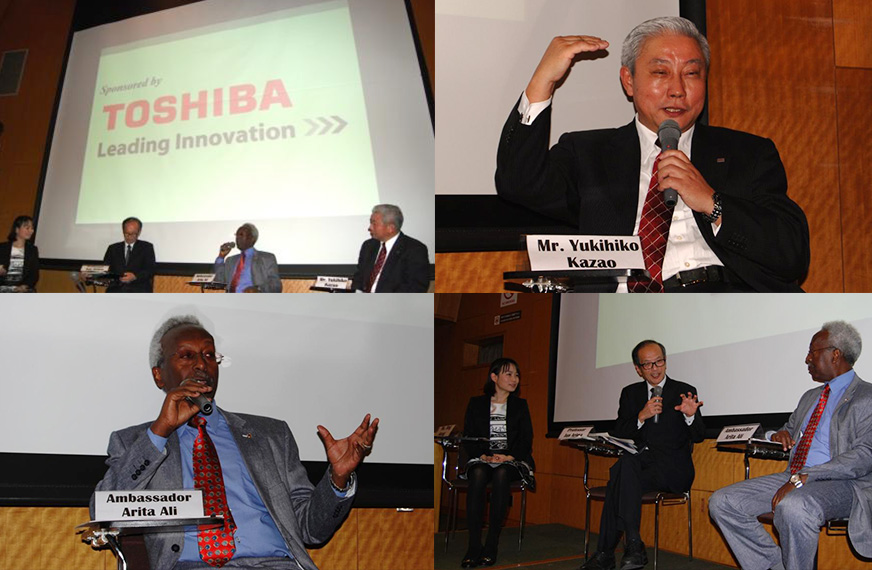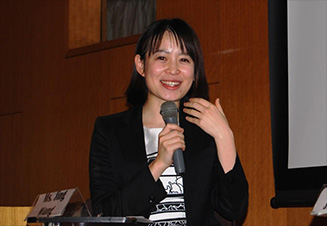 MC
Ms. Wang Jing, Executive Director, First Access