Last year's event had some entertainment, such as African music, African dance and African food. However this year, we will move the venue to Tokyo University, concentrate on presentations / speeches, and at the end we are planning to sign on a joint announcement by the Dear of African Diplomat Corps, business leaders and Hydronet Energy, and hand to the Japan International Cooperation Agency (JICA).


<SPEAKERS>
① Ambassadors...Ambassador Wasswa Biriggwa (Uganda), Ambassador Ahmed Araita Ali (Djibouti)
② Professor...........Professor Kazuhiro Nakatani, Tokyo University
③ Businesses........Tokyo Electric Power Corporation, Kokusai Kogyo Holdings
④ Students............Foreign students
⑤ Panel Discussion by Ambassadors, Professor, Businesses and students
4:00p.m.
Open Remarks
Ambassador Wasswa Biriggwa (Uganda)
Lecture about Global Warming Policy
Professor Hiroshi Ohe, Tokyo University
Lecture about Global Warming
Students (foreign students)
4:50p.m.
Coffee break (African Coffee)
5:00p.m.
Presentation about Solar Business
Business leaders (Tokyo electric Power, Kokusai Environmental Solutions Co.)
Panel Discussion
Ambassadors, Professors, Business leaders and students
Moderator : Mr. Hiroki Kudo, Adjunct Instructor of Tokyo Univ., General Manager, The Institute of Energy Economics, Japan
6:00p.m.
Close
6:30p.m.
Reception
from 6:30p.m. to 7:30p.m. at Restaurant in the Seihoku Gallery


The people of developed nations should be more concerned that poorest people are deeply suffering, and will be more suffering from global warming, caused by the developed countries. And they should also be aware that the African countries can hardly provide public services for emergency aid.
On the other hand, the developed world put solar energy into practical use. Solar power emits neither carbon dioxide nor hurtful smoke, shines much brighter than traditional kerosene lamps / candles, and most importantly, requires any more fuel, which perfectly matches to the off-grid poor people. And as the price has become affordable to many industrialized people, Hydronet Energy started the project"Tokyo Lights Africa"to share the knowledge of tragedy of climate change, at the same time raise fund to donate solar lamps for African off-grid people / children, so that they can have their first access to modern energy.
Four Japanese companies, Japan Post Service Co., Ltd., Itochu Corporation, Toyota Tsusho Corporation and Kokusai Kogyo Holdings Co., Ltd. empathized with this project, and on 10th October 2009 we organized the first event at Sumitomo Hall, Shinjuku. Among all Ambassadors who were invited, Ambassador Jean-Christian Obame of Gabon), Ambassador Wasswa Biriggwa of Uganda) and Ambassador Ahmed Araita Ali of Djibouti gave speeches to stress the tragedy of global warming and the need for basic energy access. In addition, Mr. Toichiro Maekawa, the President of Kokusai Environmental Solutions Co. introduced their commitment to develop infrastructure in Africa, especially PV (photovoltaic).
From the academia, two graduate students of Tokyo University who attended the COP meeting introduced the progress of policy about global warming.

Ambassador Wasswa Biriggwa
(Uganda)
Ambassador Jean-Christian Obame
(Gabon)
Ambassador Ahmed Araita Ali
(Djibouti)
Mr. Toichiro Maekawa, President
Kokusai Environmental Solutions Co., Ltd., Students of Tokyo Univ.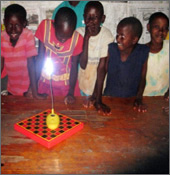 Finally, and most importantly, we donated 1,000 solar lights to Africa, preferentially chosen from the countries where the Ambassadors attended and, and where promised to issue a news report after accepted (Gabon, Mali, Ethiopia, Uganda, Kenya, Djibouti).(The children of Nyumbani Village, Kenya, smiling to see the solar lights)