Imagine. You are a lonely child who are always thirsty and hungry, and need analgesic drug to soften your pain. You have neither mother nor father. You have no chance to know new friends. Living in a slum rural area, no information updated. You are more suffering than enjoying your youth.
Energy made some difference for some children in Sierra Leone. The Hydronet Energy called for donation to put in the fund for a diesel generator, second handed computer and internet service for Christian Mission Foster - Homes for Orphans (CMFO). And by grace of good-natured people, we could finally collect the enough money, to make children smile from their heart. They can know more and more from the internet, and learn how to use computer so that they can be employed in the future.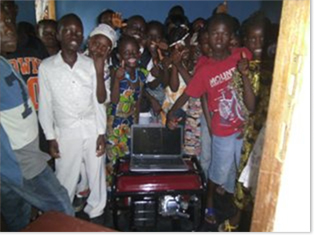 Ms. MO, Mr. NS, Ms. MK, Mr. KM, Mr. RI, Mr. or Ms. N, Mr. YA, Mr. RN, and the people who contributed funds at the May Festival at Tokyo University on May 2012, THANK YOU FOR YOUR DONATION!