First Access -Our Projects-
Tokyo Carbon Conference
As part of "Carbon Offset New Year Postcard" project of Japan Post Service Co., Ltd (JP,), and by the grace of , Itochu Corporation, Toyota Tsusho Corporation and Kokusai Kogyo Holdings Co., Ltd., Hydronet Energy held a climate change / international cooperation event called "Tokyo Lights Africa 2009" on the 10th October, 2009 at Shinjuku, Tokyo.
Including 100 units used at the event, 1,000 units of solar lights were sent to poor African children who are suffering every night from lack of basic energy.
On October 26th, Tokyo Lights Africa 2010 takes place in Sanjo Conference Hall The University of Tokyo.











Lights for African Children Foundation (LACF)
Most African rural households are not connected to the electric grid, so they have to use traditional kerosene lamps or candles for light. However, as kerosene lamps are not bright enough, easy to cause disease of the lungs, easy to cause fire, and expensive to buy fuel, Hydronet Energy started Lights for African Children Foundation (LACF) to donate solar battery lights for them.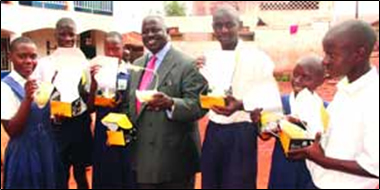 ↑ The Ugandan Ambassador to Japan Wasswa Biriggwa, handing lights to Good Care Primary Schoo. (23rd September, 2008)